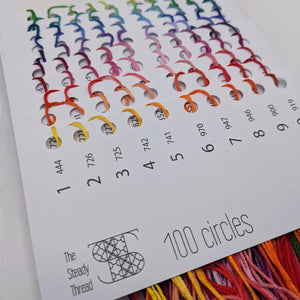 Thread pack for 100 circles, 100 colours
Regular price
$22.70
$0.00
Unit price
per
Thread packs are available 65 cm threads of each of 100 different colours, click HERE for the accompanying chart. which is '100 circles'.

This will be sufficient thread for each of the circles stitched on fabric with a count of 14 or higher stitching with a SINGLE strand. 
This is DMC brand stranded cotton
Please note EU customers may need to pay additional customs charges when these threads arrive at their destination.
---