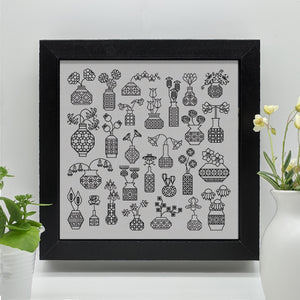 Botanical SAL 2021 - Vases layout
Regular price
$8.32
$0.00
Unit price
per
Featuring an assortment of flowers from the 2021 SAL in little blackwork vases. In this chart you will find....echinacea, slipper orchid, dogwood, narcissus, Dutch iris, rose, peace lily, gardenia, echinops, crocus, nigella, thistle, bluebell, trumpet lily, amarylis, ranaculus, dandelion, nasturtium, poppy seed head, lily, passion flower, magnolia, lavender, tulip, orchid, cosmos and chrysanthemum.
Design size in stitches 144 x 144
On 18 count 21 cm square, On 16 count 23 cm square, on 14 count 26 cm square
If you would like a peek at some of the lovely stitching the SAL group did, please visit the gallery by clicking HERE 
This chart is available as a multipage printable or a single page PDF, you will need to select which version you would like to purchase.
---